When visiting León, don't miss the opportunity to stay with a hotel chain that is budget-friendly, safe, welcoming, and functional while offering a number of additional benefits.
One León Antares, located near the Centro Max shopping center, gives you exactly what you need: spacious rooms and common areas where you can work, relax or have fun. Whether you travel for business or pleasure, staying somewhere nice doesn't have to be expensive anymore. One Hotels meet the needs of any traveler¿s budget while ensuring a safe, reliable, comfortable stay and providing efficient service so that you can stay focused on your trip.
Services
The hotel has 126 guest rooms and a restaurant serving complimentary breakfast open from 6am-10am Monday to Friday and 7am-11am on weekends. Guests can also enjoy high-speed wireless Internet, laundry and ironing service, parking, vending machines with food and drinks, and meeting rooms. Service dogs are permitted.
Please note that check-in begins at 3pm, subject to availability. Check-out is at 12pm. Express check-out is recommended.
Business center
Free local calls
100% smoke free hotel
Guests access with guide dogs
Safe in reception
Free Wi-Fi access
Handicapped access
Meeting Room
Outdoor parking
Pets are not allowed
Qualified:
x
Location #25 of 57 hotels in Leon
Summary of qualifications
Best comments
"Nice, but small rooms"
This was our first stay at a "One" hotel, and this property was only three months old when we stayed. Everything was new and clean, and despite the warnings here we had no problem with noise, in fact I slept like a baby! The free breakfast is really good, with make your own chilaquiles and cochinita tacos, a nice touch. Coffee and tea are available 24 hours. My only complaint is that the rooms are very small, without even room to open your suitcase. Our family joke was that that is why they are called "One" - there's only really room for one person!
"No respetan reservaciones "
No respetaron mi reservación, hablé a reservaciones ONE y me comentaron que todo estaba correcto, simplemente fue el hotel quien no hizo válida la reservación. Muy mal por este hotel. Mal por la gerencia.
"El peor hotel en que me he hopedado"
no vale la pena, el hotel esta nuevo pero al parecer no esta del todo terminado ya que muchos servicios son altamente deficiente . Primer hotel al que llego en el que el lobby no esta a nivel de la entrada del edificio.
"Felicidades"
Excelente servicio, calidad en las instalaciones, excelente sistema de reservación, limpieza, ubicación, atención, son varias veces que hemos reservado porque nos gusta la atención brindada y seguiremos reservando
"Estancia confortable pero una situación con el horario de la limpieza"
En días pasados me hospedé con mi esposa durante un par de noches en el hotel One León Antares. Fue nuestra primera estancia ahí pues en ocasiones anteriores nos habíamos quedado en el hotel One León Poliforum y bien podemos decir que no desentonó en términos de lo práctico y funcional que suelen ser los hoteles de esta marca y cadena ("Sólo lo que uno necesita", como dice su publicidad). Se presentó una situación en nuestro primer día completo de estancia que nos gustaría comentar aquí: cuando regresamos a la habitación después de las 18:00, no estaba aseada. Acudimos a la recepción para reportar esto y prontamente llegó la camarista quien muy puntualmente nos explicó que esto se debía a la muy elevada ocupación de huéspedes en esos días (con la Motofiesta más la Asamblea Nacional de Contadores Públicos y el Congreso de Enfermería Oncológica tenían "las manos llenas") y nuestra habitación no era de las últimas en ser aseadas en el piso 1, sino que sería la primera. Ante esto nos quedó claro que no fue una cuestión que se pueda atribuir a la camarista pero tenemos la duda de si el hotel tiene relativamente poco personal para atender la cantidad de habitaciones que ofrece, o si hubo algún problema de organización o logístico. La ubicación es muy conveniente, eso es un "plus" del One Antares como también lo es el desayuno incluido, que si bien es básico ("Americano") está sabroso.
Top-rated Attractions Nearby
Photos hotel and surroundings (2)
Rooms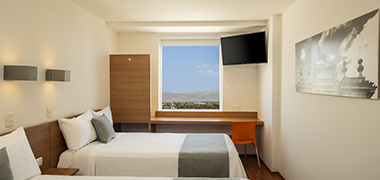 Superior Room, 1 Queen
Find the comfort and warmth that you need to work or rest in this practical room. It is equipped with a queen size bed, office work desk and chair, telephone, wireless Internet, full bathroom, air conditioning and cable LCD TV.
Superior Room, 2 Double
Enjoy a comfortable and peaceful stay in this inviting room that offers exactly what you need to work or relax. It includes two single beds, office work desk and chair, closet, telephone, wireless Internet, full bathroom, air conditioning and cable LCD TV.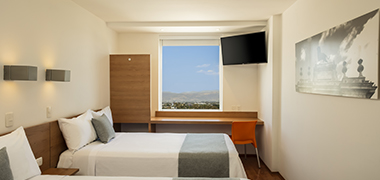 Accesible Room
This room has been carefully designed to provide our special needs guests with the comfort they need and deserve. It is equipped with wheelchair access and safety handrails in the bathtub and bathroom, a raised toilet with safety handrails, and an extra-wide door. It also includes a single bed, work desk, closet, telephone, wireless Internet, air conditioning, and cable LCD TV.