Fiesta Inn
Tijuana Otay Aeropuerto
Fiesta Inn Tijuana Otay Aeropuerto
Located next to the American Consulate, 5 minutes from the bus station, providing easy access to the Tijuana Cultural Center, Parque Morelos and Parque de la Amistad.  Situated only 8 minutes from the airport and very close to the United States border checkpoint (Garita Otay).

Fiesta Inn Tijuana Otay Aeropuerto is an Eco-friendly hotel, so it is a 100% smoke free hotel.

We remind you that the check-in time is from 3:00 PM. Check-out is at 12:00 PM. We suggest you use our express check-out service.

Services
The hotel has 142 rooms, a restaurant, a lobby bar open from 12:00 p.m. to 11:00 p.m., outdoor swimming pool, tobacco shop and fitness center. Hotel services include:
Indoor parking
Handicapped access
Business center
Free Wi-Fi access
Gym
Restaurant(s)
Guests access with guide dogs
Laundry service
24 hours room service
Pets are not allowed
Bar(s)
Outdoor pool
Restaurant

Restaurant
The Fiesta Inn features a restaurant which opens from 6:00 a.m. until 11:00 p.m. and is an excellent choice for breakfast, lunch and dinner. Choose from buffet or menu dishes, our Mexican appetizers and the finest regional cuisine.

Meeting Rooms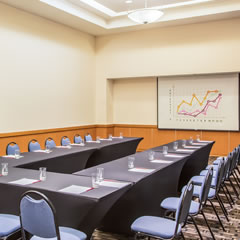 Event and meeting rooms
The hotel has a Business Center with computers and high speed wireless Internet, it also has 2 meeting rooms with air conditioning and capacity for 6 people.
It also features meeting rooms that can be adapted to host for up to 180 people in an auditorium; each room has a board, electric screen, flip charts, coffee service and personalized service. Our professional team will help with your groups and conventions.
Qualified:
x
Location #4 of 45 hotels in Tijuana
GreenLeader Gold
Summary of qualifications
Best comments
"If business takes you to TIjuana"
I stay at this hotel every time I travel to Tijuana as it is convenient to the facility I work at, is very nice and comfortable and the food is great. The service and amenities are also a great addition to the hotel.
"Surprisingly good"
I have always stay on junior city express whenever I pass by Tijuana but this time they were book, so I got a room at Fiesta Inn and wow I can really see the difference.. the bests are soft, the act works and the buffet breakfast is great.. ok is not free but it only cost 225 or 250 pesos which is not back once u see the quality of food, but also the hotel is more secure u can go up the elevator without a room key card and the tvs are huge.. I really think this will be my hotel from now on.
"Reservation not Honored"
We arrived to the hotel at check in time. We were told the rooms were not available because the hotel was a full capacity. They told us we could use the hotels facilities and wait about 30 minutes for our rooms to be available. The only area to go was the lobby or the pool area. We arrived with my 1,5 & 13year old who were very tired from the drive up from L.A. We opted to head to the pool area . We were then surprised the hotel also rents out its pool area for parties. We had to walk around the lawn area that was filled by party tables and guest then go over to the far end and share the entire pool full of kid from the party. We then go check in 45 minutes later and were advised our reservation was not available as we had asked for 2 queen beds and were given a different room with a single bed and sofa bed. We had to complain to get them to give us one of the two rooms reserved and paid back to its original request. After I complained they said they would switch us the following day because nothing was available that day. We only got apologies and never offered a complimentary compensation like a discount or a free breakfast , a free drink or even a free coffee. They manager apologized endlessly but never went out of her way to see what they could do on their own free will to remediate the error. The staff was friendly but I will never stay again with risk of showing up and getting a very unpleasant surprise. I would not recommend their hotel as they blame their system for the error and not blacking out the rooms reserved. In that case what is the point of prepaying and reserving. Do not stay at this hotel unless you are okay with unpleasant and unwanted surprises and don't care if you get what you paid for.
"Good Hotel"
We had to booked this hotel due to a mistake with another hotel. Fiesta Inn saved the day. This hotel is pretty clean, staff is friendly. Registration took a while, there was only one person in the front desk, but we understood, it was late when we registered.
"Beautiful hotel but hard to find"
The hotel is new but way out in the middle of nowhere. The property is beautiful and convenient that it has a onsite bar and restraint. The pool area is small but pretty. The rooms and bath clean.oom.
Top-rated Attractions Nearby
Tijuana Cultural Center (CECUT)
Turista Libre
Playas de Tijuana
Tijuana Walking Tour
Avenida Revolucion
Mercado Hildago
El Popo Market
Plaza Rio Tijuana
Universidad Autonoma de Baja California
Estadio Caliente Xoloitzcuintles de Tijuana
Photos hotel and surroundings (88)
Rooms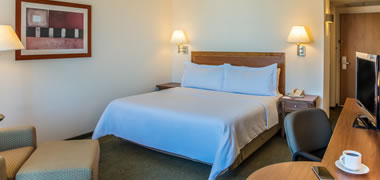 Superior Room, 1 king
The room is 30 m2 with a king-size bed, 2 bedside tables, 29" TV, reading chair and spacious work desk, telephone, bathroom with tub, shower and toilet.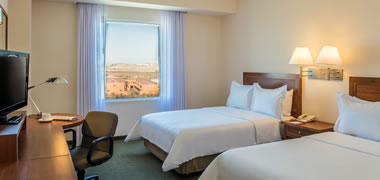 Superior Room, 2 double
Equipped with 2 double beds, 29" TV, spacious work desk, telephone, bathroom with tub, shower and toilet.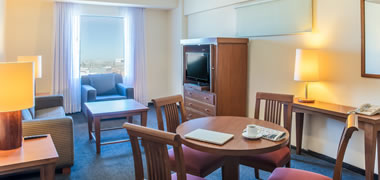 Junior Suite
A spacious, luxury room that includes a bedroom with a king-size bed, armchair with ottoman, vanity, full-length mirror, TV and work desk with a telephone, lamp and high-speed Internet connection. The living room features a small cupboard, microwave, mini bar, balcony and a beautiful panoramic view.