AdressPosadas
Gamma Acapulco Copacabana
Tripadvisor_Gamma_Acapulco_Copacabana
ComPosadasDesWeb
Please be advised that our parking lot is located one block from the hotel and we do not have valet parking service. We appreciate your understanding.
Experience the essence of Acapulco, now at Gamma. Located at the ultimate tropical destination, just a few hours away from Mexico City and with a three-decade long history, Gamma Acapulco Copacabana reinvents itself to offer an unforgettable stay with every comfort expected and the best hospitality experience.Acapulco means tradition, celebration, nightlife. The Pearl of the Pacific is the perfect destination to enjoy the essence of one of the most popular bays in Mexico, thanks to its many beaches, water sports, delightful cuisine, and warm, welcoming people.ABC Medical Center, our protocols ally. A leader in medical best practices for more than 130 years, ABC Medical Center, dedicated to caring for their patients' health, has assisted POSADAS in the development of prevention, hygiene, and disinfection protocols that allow the group to guarantee the safety of their staff and guests.
Facilities
Services
Guide Dog
Gym
Smoke Free Hotel
Indoor Parking Extra Cost
Room Service
Outdoor Pool
Beach
Fiesta Kids Club
Tabachines Grill
If you want to have fun in the pool area, your option is Tabachines Grill, ideal for savoring the best seafood.
Business center and event rooms
We know Acapulco is a great destination for celebrations, and we have everything you may need for your event: spacious rooms, and catering for groups, conventions, congresses, and exhibitions of all sizes, as our facilities have capacity for up to 700 guests. Whether it's a business ocassion or a special celebration, our team is ready to plan, execute, and oversee your corporate events, weddings by the sea, birthday parties, or executive meetings. Our packages include any of the open or closed spaces at Gamma Copacabana Acapulco hotel; we also offer an independent space if you need more privacy, as well as a terrace with a view of the bay for intimate ocassions. Try our catering menus for coffee breaks, breakfast, and dinner, as well as our different setting options. We have different service options where you can select the experiences you want to enjoy in our European Plan. It is time to have a memorable vacation with the great service that makes Gamma Copacabana Acapulco an unforgettable hotel.
HabitacionesMinisite
Rooms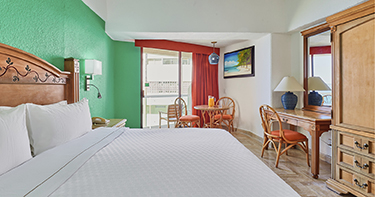 Deluxe Room, 1 King c/cocineta
This fully equipped room features a kitchenette with microwave, electric stove with two burners, frigobar and toaster oven to prepare all your favorite meals. It is an excellent option to enjoy the beauty and fun of Acapulco in a private environment.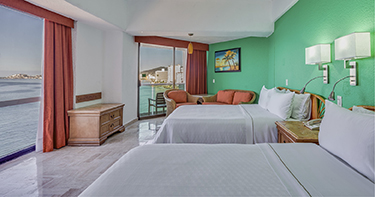 Junior Suite, 2 Double
This room will offer you and your friends or family the best view of the beach, as well as shared spaces such as a living room with every comfort you might need: WiFi, TV and bath amenities like bathrobe and slippers.
Deluxe Room, 1 King
This spacious and comfortable room features a partial or full ocean view and a King Size bed. It is the perfect place to watch the sunset and take a break after exploring the most iconic spots in Acapulco.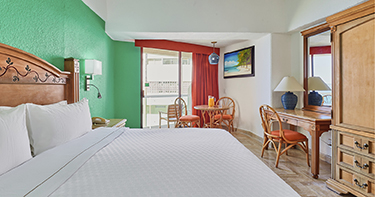 Accessible Room
For our guests with special needs, this room is equipped with bathroom and shower handrails and a walker, guaranteeing their safety and comfort.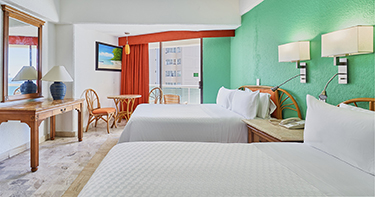 Deluxe Room, 2 Double
With two double beds, this room is for sharing. It offers excellent services, making it ideal for friends or families seeking to relax after a day of fun.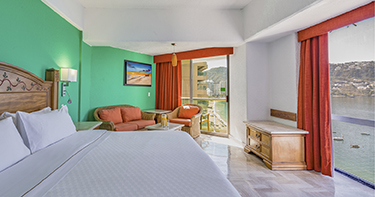 Junior Suite, 1 King
Discover a wide array of possibilities for relaxation at this guest room, featuring a King Size bed, living room, and an unforgettable ocean view, as well as the best amenities for pampering yourself, such as a bathrobe and slippers.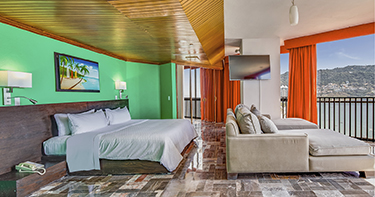 Master Suite, 1 King
An ocean view and plenty of space between the bedroom and living room make this suite one of the best in our hotel. Here, you'll find moments to rest and enjoy yourself in a private atmosphere with every comfort you might need, as well as a flatscreen TV, reclining sofa, or a comfortable King Size bed.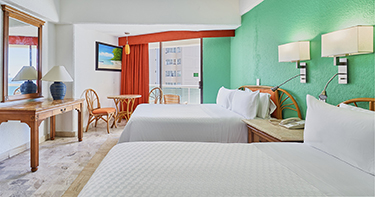 Deluxe Room, 2 Double w/kitchenette
Enjoy a holiday with your entire family in this spacious room with two double beds. A functional kitchenette with microwave, electric stove with two burners, frigobar and toaster oven will help you cook up any craving you may have. If you want to relax, all you have to do is look at the sea.