Tripadvisor_Gamma_Ciudad_Juarez
At Gamma Ciudad Juárez, guests can enjoy the essence of one of the most important border cities of Mexico, located in the heart of the Chihuahua desert.The hotel is located in the Pronaf Zone, very close to El Chamizal park, 2.5 kilometers from the Córdova border bridge, 20 minutes from the Ciudad Juárez International Airport, and 10 kilometers from the El Paso International Airport, in Texas.Allow yourself to be charmed by everything the hotel has to offer you: open spaces, beautiful gardens, 160 guest rooms, wireless Internet access, a restaurant, Lobby Bar, swimming pool, fitness center, event rooms and friendly service.Experience the attractions of this destination's museums, entertainment spots, shopping and the marvels of the surrounding area, including the Samalayuca Dunes and the Paquimé "Casas Grandes" archaeological zone.Relax, have fun and discover the great border city of Ciudad Juárez at Gamma. This hotel is Pet friendly so don't forget to come with your pets (at extra charge).ABC Medical Center, our protocols ally. A leader in medical best practices for more than 130 years, ABC Medical Center, dedicated to caring for their patients' health, has assisted POSADAS in the development of prevention, hygiene, and disinfection protocols that allow the group to guarantee the safety of their staff and guests.
Services
Guide Dog
Gym
Smoke Free Hotel
Indoor Parking Extra Cost
Room Service
Outdoor Pool
Dog Friendly-Extra cost
Rooms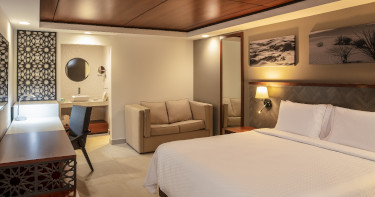 Deluxe Room, 1 King
You deserve a space that comforts you, and we equip this room with everything you need to enjoy your stay. It has a king bed, an armchair, large work desk, satellite TV with a 32" screen, high-speed wireless Internet access, telephone, climate control, and private bathroom with amenities.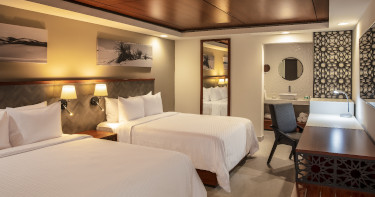 Deluxe Room, 2 Double
Either traveling of work or pleasure, your travel will be a success staying in our double deluxe room, equipped with a 2 queen size beds, that allow a maximum capacity of 4 people, safe box, minifridge, 55'' 4k Television, free Wi-Fi service and amenities for personal use.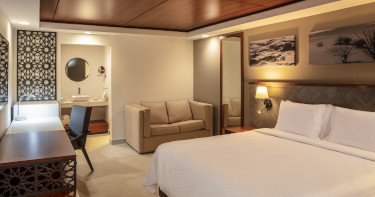 Master Suite, 1 King
One of our favorite rooms for special nights for couples, it has a spacious space, also has a roman tub, one king size bed, 55'' 4k Television, minifridge, a sofa, safe box, free Wi-Fi and amenities for personal use.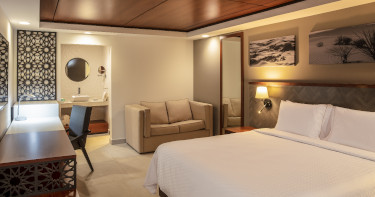 Executive King
Our executive rooms is equipped with one King size bed, spacious living room and a dining room for 4 people, bar kitchen, mini bar and a microwave, free Wi-Fi and amenities for personal use.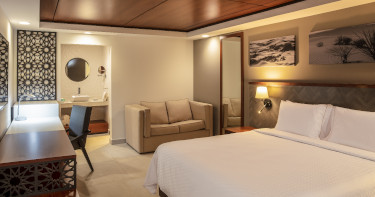 Junior Suite, 1 King
Enjoy a confortable space on these rooms, it counts a division between the room and the living room, both spaces are equipped with refrigeration/heating. The room has a King Size Bed and a 55'' 4k Television, in the living room will find a work desk, safe box, minifridge, free wi-fi, and amenities for personal use.