carousel gamma merida el castellano
Gamma Mérida El Castellano
ComPosadasCalificacionTripadvisor
Qualified:
ComPosadasTripadvisorModal
x
Gamma Merida El Castellano
Location #28 of 159 hotels in Merida
Travelers Choice 2022
Summary of qualifications
Best comments
"Merida"
There are many options better than this hotel at same price / location. Dated hotel & room including furniture. Bathroom is well below standard, stained mirror, very old WC & tub, everything is so dated. Facilities are limited, service including front desk communication and willingness to help is below par.
"Scandalous unacceptable behavior by night-shift front desk worker"
Yesterday night we had extremely unpleasant incident at the reception desk of your hotel. Around 23:00 my wife and I asked to extend our stay at your hotel for 2 days more . Young man at the front desk ,whom we never saw before, said that it is "impossible" and did not make any effort to even try to enter our request into computer. We told him that we have been staying in this hotel already 2nd week and did extent our stay few time and never had any problems. He said that he cannot do it. When I asked him what his name is he refused to give me his name saying that he "does not have to give me his name". When I told him that such a front desk service is unacceptable he started to threatening me that he will call police. When I told him I will make a complaint about his disrespectful and rude attitude he said that foreigners like my frequently insult local people because they feel they can. I told him that such a statement constitute discrimination against a person of foreign origin. I also told him that if he discriminates and disrespects foreign clients then he should not be working in international institution like hotels. I told him that I will address this with the management of the hotel and that for his attitude and behavior he should quit or lose his job as a person unfit to deal with international clients. Next day I addressed the above situation with the lady at the front desk who extended our stay for additional 2 days. I also spoke with the manager of hotel who listen to our complaint but did not even offered one word of apology. We have been staying in this hotel almost 2 weeks and prior to this incident we have never had any problems with the staff who work here are usually very pleasant and helpful. The man responsible for this incident appears to be a new employee as we never seen him before ; his behavior however is totally unacceptable, rude, scandalous.
"highly recommendable!"
very well managed hotel in a great central location. large, nicely furnished and comfortable rooms with all amenities. very friendly staff und excellent service. well designed safety concept regarding hygiene and sanitization procedures. i will definitely stay here again on my next visit to merida. definitely recommendable!
"Dissappointing at best."
Gamma is rated a 4 Star, it may be a 4 Star in Merida, but it would be a 2 Star in Cancun. I couldn't get a soda at 6 am because the kitchen is closed until 7. Food is served 7 to 10, 12 to 3 and 6 to 9 pm and there is nothing in between. There is no refrigerator in the rooms, on the 3 rd or 4th use, there was rusty water from the sink, I didn't ask, but I don't recall seeing an ice machine. If you like a soft bed this is the place, we were on the 7th floor with 2 queen beds and a view of the city, there was nothing spectacular about the room, but it was clean and comfortable with ample hot water for a nice shower. One of the dining room waiters told me I was drinking too fast when I ordered another round for my self and my Wife. We had been on a bus for 5 hours after being evacuated during Hurricane Delta last week. The Guys at the front entrance outside were friendly and very helpful in answering questions about local attractions and shopping. We were sent to this property by our hotel in Cancun during Hurricane Delta, per the local Governor, all alcohol was banned, not the hotels fault, but something to consider if you are traveling during this season.
"Merida"
The Gamma Hotel was a great buy. The cleanliness standards do to COVID were impeccable. The staff was very kind, and helpful with all our questions. The location was excellent for walking. Extremely safe.
Top-rated Attractions Nearby
Photos hotel and surroundings (331)
Tripadvisor_Gamma_Merida_el_Castellano
Gamma is a new hotel concept that combines the best of two worlds-the charm of a small local hotel and the backing of the Fiesta Inn chain. In these spaces designed for a unique stay, feel the warmth of our service and enjoy the thrill of being in a destination with the taste of Mexico. Cherish many unforgettable moments at Gamma by Fiesta Inn Mérida El Castellano.The hotel is located in the historic downtown district, where the flavor, magic, and extraordinary richness of the Yucatán culture resides. It features 160 comfortable guest rooms, a business center, fitness center, swimming pool, restaurant, bar, and fully equipped meeting rooms for work groups and special events.Gamma by Fiesta Inn Mérida El Castellano is an Eco-friendly hotel, so it is a 100% smoke free hotel.ABC Medical Center, our protocols ally. A leader in medical best practices for more than 130 years, ABC Medical Center, dedicated to caring for their patients' health, has assisted POSADAS in the development of prevention, hygiene, and disinfection protocols that allow the group to guarantee the safety of their staff and guests.Please note that the check-in time is 3pm and the check-out time is 12pm. For your convenience, we recommend express check-out
Services
The hotel features 160 rooms, restaurant, bar and open facilities to work and rest. Hotel services include:
Guide Dog
Gym
Smoke Free Hotel
Free Outdoor Parking
Room Service
Outdoor Pool
Meeting and Event Spaces
If you have work to do, Gamma by Fiesta Inn Mérida El Castellano offers fully equipped and professionally staffed meeting and event spaces with everything you need for a successful conference, seminar, meeting, convention or other special event. Meeting rooms are fully equipped and can accommodate from 90 to 200 guests. There is also a business center with computer work stations and everything you need to stay productive while on the road.
Rooms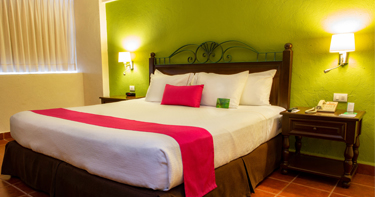 Accessible Room
Completely designed to be easily accessible by guests with disabilities, this ample and comfortable room houses two adult guests. It has a no-barrier entrance and is equipped with a king size bed. The bathroom is equipped with safety bars and a shower seat. Other amenities include free high-speed WiFi, air conditioning, a 32 inch LCD TV Set with satellite programming, electronic safe deposit box, Alarm/Clock Radio, electric coffeemaker and an iron and ironing board, bathroom includes bath toiletries and electric hair dryer.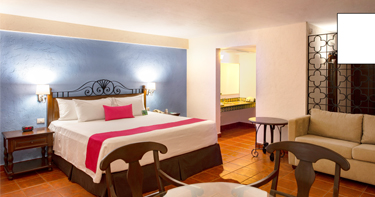 Junior Suite, 1 King
These rooms offer a single King Size bed, and also include a fold-away bed, a living room with a round table and chairs and a sofa. Amenities include free high-speed WiFi, air conditioning, a 32 inch LCD TV Set with satellite programming, electronic safe deposit box, Alarm/Clock Radio, electric coffeemaker and an iron and ironing board; bathroom includes bath toiletries and electric hair dryer. (65.60 sq. ft.)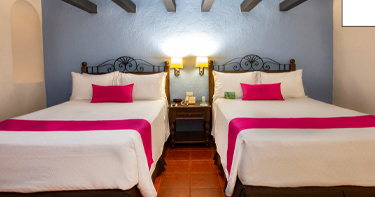 Junior Suite, 2 Double
These rooms offer two Full Size beds, a living area with two double armchairs. Amenities include free high-speed WiFi, air conditioning, a 32 inch LCD TV Set with satellite programming, electronic safe deposit box, Alarm/Clock Radio, electric coffeemaker and an iron and ironing board; bathroom includes a medium sized bathtub, bath toiletries and electric hair dryer. (82 sq. ft.)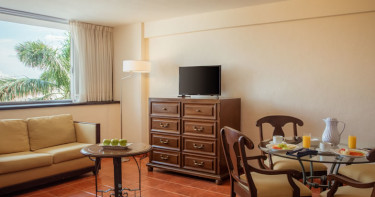 Master Suite
Everything you need is here for a magical stay in our Master Suite. This room has 2 connecting rooms. One room has 1 queen size bed and own bathroom with tub; and the other room has 1 double bed, a Murphy bed (folding bed) and private bathroom with shower. Each is equipped with hair dryer, closet, coffee maker, 32"LEDTV, air conditioning, electronic safe and wireless internet.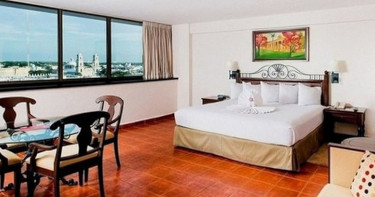 Presidential Suite
This is equipped with a living room with 32'' LED TV, a Murphy bed (folding bed), dining area, full kitchenette. It also has 2 separate bedrooms, 1 with king size bed and one with 2 double beds each with own bathroom, air conditioning and wireless internet. Share your stay in this spacious and functional space where can accommodate up to eight people.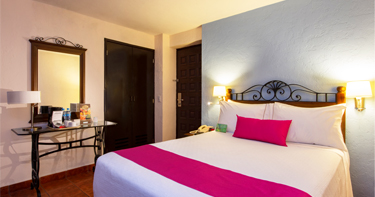 Studio
These rooms all have a double size bed, ideal for either a single traveler or couples. Amenities include complimentary high-speed WiFi, air conditioning, a 32 inch LCD TV Set with satellite programming, electronic safe deposit box, Alarm/clock Radio, electric coffeemaker, iron and ironing board; bathroom includes bath toiletries and electric hair dryer. (The room's area is 41sq. ft.)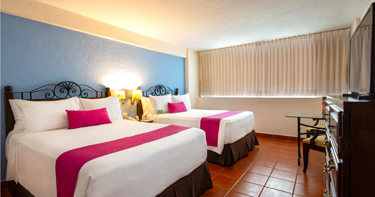 Superior Room, 2 Double
These rooms offer two Full Size beds and a desk. Amenities include free high-speed WiFi, air conditioning, a 32 inch LCD TV Set with satellite programming, electronic safe deposit box, Alarm/Clock Radio, electric coffeemaker and an iron and ironing board; bathroom includes bath toiletries and electric hair dryer. (65.60 sq. ft.)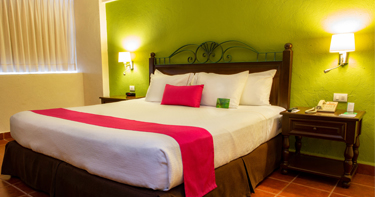 Superior Room, 1 King
These rooms offer a single King Size bed and a desk. Amenities include free high-speed WiFi, air conditioning, a 32 inch LCD TV Set with satellite programming, electronic safe deposit box, Alarm/Clock Radio, electric coffeemaker and an iron and ironing board; bathroom includes bath toiletries and electric hair dryer. (65.60 sq. ft.)