ComPosadasCalificacionTripadvisor
Qualified:
ComPosadasTripadvisorModal
x
Location #13 of 26 hotels in Ixtapa
Travelers Choice 2022
Summary of qualifications
Best comments
"The only good thing about this place is the bell-boy"
We just stayed here and can't understand why it got such good reviews? We have stayed at other Fiesta Americana's much nicer and I like to give positive reviews but very little positivities with this place. The hotel was old, the elevator doors when entering had dirt on them smeared (which I don't usually notice but couldn't avoid in this case). EVERY DAY sometimes two or three times a day we had to go to lobby to get room cards re-set and the room doors slam hard and twice woke us jumping up out of bed because they were sooooo loud! Again don't normally notice the doors but in this case, couldn't avoid. Also be aware NO security box in room and have to go to lobby to use theirs which sometimes, depending on day don't work. Two positivies: The massage was one of the best I've ever had and great price and "Francisco" the bell boy should get a raise or promotion because he tried his best to help us when other people just kind of had excuses and shrugged their shoulders. Also, A/C barely worked and wifi iffy but hotel within good walking distance of shopping but not beach area. Would rather spend more money and stay somewhere else next time.
"Ixtapa"
This wasn't a great experience, extremely difficult to communicate. A/C barely worked thank goodness for the fan in the room. Staff not very friendly some things went missing from our room. Minor things but staff didn't care at all! Pool was nice but no service at the pool.
"Wonderful Hotel with Amazing Staff!"
Wonderful Hotel with Amazing Staff! This is a First Class Hotel that superseded our expectations. Upon our arrival we were greeted by Milagro, Manager who was so lovely and treated us like family, it set the tone of our entire 3 week stay. We also were assisted by Josues at the Front Desk who went above and beyond to provide professional and helpful assistance to us during our stay. Really and truly, all the Staff were so genuine and kind... we already know that we want to come back!!! Our Thanks to all Staff that were so kind, helpful and wonderful to us! With much love and affection from your very Happy and Grateful Canadian Friends!!!
"Good hotel"
Affordable, near beaches, good breakfast buffet with great customer service. However, the rooms are dated and the beds are not comfortable. We did not appreciate being approached by sales trying to up sell.
"good vlue"
Nice and clean hotel/rooms. Comfortable beds. Effective and friendly staff. Buffet food OK. Pool requires attention from management. On a hot sunny day with a lot of guests simply was not enough chlorine and the pool itself needs some maintenance/repair but I believe they have started.
Top-rated Attractions Nearby
Photos hotel and surroundings (211)
Tripadvisor_Gamma_Acapulco_Copacabana
Gamma is a new hotel concept that gives you the best of both worlds; the charm of a small local hotel and the backing of the trusted Fiesta Inn national chain. The areas within the hotel are designed to create unique experiences, with the warmth and charm of traditional Mexico. Come create a wide range of unforgettable memories at Gamma Plaza Ixtapa Hotel by Fiesta Inn.The hotel is located in the heart of Ixtapa, just 20 minutes from the airport and very close to El Palmar Beach, the handmade goods market, and many of the area's main attractions. It has 153 comfortable guest rooms and suites, a restaurant, bar, spa, gym, pool, wading pool, pool bar, and parking, as well as three event rooms and beautiful gardens that will make your stay more pleasant.ABC Medical Center, our protocols ally. A leader in medical best practices for more than 130 years, ABC Medical Center, dedicated to caring for their patients' health, has assisted POSADAS in the development of prevention, hygiene, and disinfection protocols that allow the group to guarantee the safety of their staff and guests.Please note that the check-in time is 3pm and the check-out time is 12pm. For your convenience, we recommend express check-out.
Services
The hotel features 153 rooms, restaurant, bar and open facilities to work and rest. Hotel services include:
Guide Dog
Gym
Free Outdoor Parking
Outdoor Pool
Playa Linda Restaurant
Our restaurant satisfies you with a variety of offerings, available from the menu or as part of the buffet. Experience the flavor of authentic Mexican food or surprise your taste buds with a selection of international dishes. If you wish to have something to drink while you enjoy a delicious snack, the pool's snack bar is the perfect place for that. Breakfast: 7:00 AM - 11:00 AM Lunch: 13:00 PM - 17:00 PM Dinner: 19:00 PM - 22:30 PM
Meeting and Event Spaces
Gamma Plaza Ixtapa Hotel by Fiesta Inn has the perfect facilities and team and offers assistance by highly trained staff to give your event that touch that will make it unforgettable. Choose the most charming setting in the beautiful gardens or the three meeting rooms which are ideal for conventions, conferences and social events with capacity from 40 to 450 people.
Rooms

Junior Suite, 1 King
Incredible moments await you in this room, ideal for couples who want to enjoy a stay they will always remember. It has a king bed, bathtub, air conditioning, closet, ironing kit, desk, wireless Internet, telephone, cable TV, smoke detector, security safe, electronic locks and a balcony to admire the view of the hotel's gardens and swimming pool.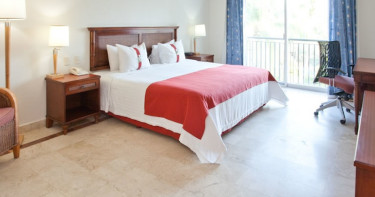 Accessible Room
An intimate space ideal for one or two people awaits you in this room, equipped to meet the needs of handicapped guests. It features a King size bed, private bath, cable TV, security safe, and air conditioning.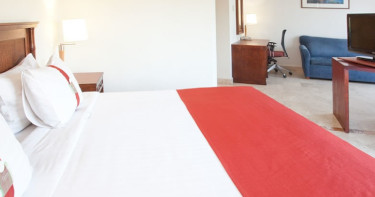 Executive Room, 1 King
Doing business is more enjoyable in this warm room equipped with everything you need for your trip to be successful. It has a king bed, double pull-out sofa bed, air conditioning, closet, ironing kit, desk, wireless Internet, telephone, cable TV, smoke detector, safe and electronic locks.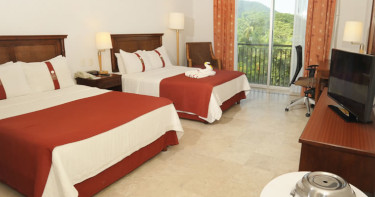 Superior Room, 2 Double
Share with your loved ones the charm of this room, a unique and warm space where you will experience pleasant moments throughout your stay. It is equipped with two double beds, air conditioning, closet, ironing kit, desk, wireless Internet, telephone, cable TV, smoke detector, security safe and electronic locks.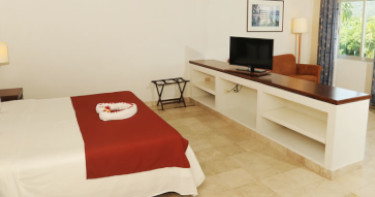 Master Suite, 1 King
This spacious room is ideal for extended stays, with everything you need for a comfortable stay. It is equipped with a king bed, kitchenette, cooktop, minibar, microwave oven, dishes, glassware, double pull-out sofa bed, air conditioning, ironing kit, desk, wireless Internet, telephone, cable TV, smoke detector, security safe and electronic locks.