AdressPosadas
Gamma Veracruz Boca del Río Oliba
Tripadvisor_Gamma_Veracruz_Boca_del_Río_Oliba
ComPosadasDesWeb
For our guest's safety, please be advised that our swimming pool and gym will be out of service. We appreciate your understanding in advance.The charming town of Boca del Rio sits along the coast of the Gulf of Mexico in the state of Veracruz, where the Jamapa River meets the sea. The Gamma Boca del Río Oliba offers a cozy ambiance and warm hospitality in this picturesque destination.The hotel is located near the Plaza Las Americas and the World Trade Center, just 20 minutes from downtown. It offers 63 guest rooms featuring in-room coffeemaker and hairdryer, wireless Internet access, restaurant, swimming pool, fitness center, meeting and event rooms, Business Center and parking.This is the perfect place to experience the top attractions of Boca del Río. Explore the history museums, gaze in awe at the largest aquarium in Latin America, swim at the tranquil beaches, learn about local traditions at celebrations like the Fiestas de Santa Ana, admire the colonial buildings, and listen to the street musicians in the downtown historic district.Be a part of the excitement of this magical place by staying at the Gamma Boca del Río Oliba.ABC Medical Center, our protocols ally. A leader in medical best practices for more than 130 years, ABC Medical Center, dedicated to caring for their patients' health, has assisted POSADAS in the development of prevention, hygiene, and disinfection protocols that allow the group to guarantee the safety of their staff and guests.
Facilities
Services
The hotel features 81 rooms, restaurant, bar and ideal facilities to rest and work. Our services include:
Guide Dog
Gym
Smoke Free Hotel
Free Outdoor Parking
Room Service
Outdoor Pool
Meeting Room
The hotel Business Center is designed to help guest work in a peaceful environment without any distractions. It offers two meeting rooms accommodating up to 30 guests and outfitted with projector and screen. Our staff can provide coffee breaks, breakfasts, lunches or dinner to make your work sessions more enjoyable and keep your guests recharged.
Los Vitrales Restaurant
The cuisine of Veracruz is delicious and varied, featuring fresh seafood and a fusion of indigenous and Spanish ingredients. Guests can enjoy all these rich flavors in the traditional dishes served at Los Vitrales. Come enjoy wonderful breakfasts, an exciting menu throughout the day, and even meal service in the comfort of your room.
HabitacionesMinisite
Rooms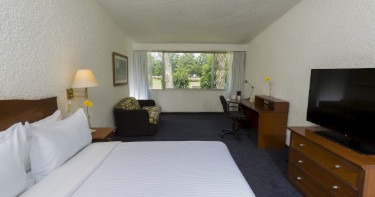 Superior Room, 1 Queen
The charm of Boca del Río shines through in this room with a beautiful view of the city's main avenue. It offers a queen bed, hairdryer, work desk, breakfast bar, cable TV, wireless Internet access, air conditioning, security safe, vanity mirror and complimentary coffee kit.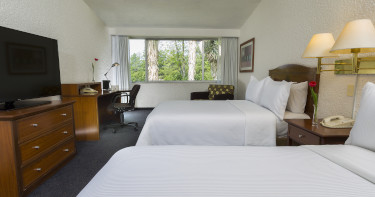 Superior Room, 2 Double
Enjoy a stay as warm as the Veracruz sunshine in these comfy rooms. Each room features two double beds, hairdryer, work desk, breakfast bar, cable TV, wireless Internet access, air conditioning, security safe, vanity mirror and complimentary coffee kit.