Gamma Villahermosa Centro
ComPosadasCalificacionTripadvisor
At Gamma Villahermosa, we take tradition and we make it part of our essence by blending it with the best amenities, and offering you a comfortable, relaxed stay. Here, you will be welcomed with Tabasco's iconic warmth, allowing you to fully enjoy your trip to the heart of Eden.It will be our pleasure to welcome you and make you feel like you are in paradise, whether you are here for work, or traveling with family or friends. We are an actual hotel with high-quality services, and everything you need to have a good time and discover this tropical destination, where ancient traditions are part of our essence and spirit, which we want to share with you in every detail.We have a great variety of spacious, fresh, and comfortable guest rooms for you to relax in, as well as functional spaces where you can hold events or daily activities. We offer event spaces where you can welcome your guests and celebrate special occasions, as well as fully-equipped meeting rooms and a terrace. Explore the capital of Tabasco and its riches with us, starting with its gastronomy, which you can discover in several dishes at our restaurant, Los Manglares, a local icon.
Services
Guide Dog
Gym
Smoke Free Hotel
Room Service
Los Manglares
Taste tradition in every dish Our variety of traditional Mexican and local cuisine is a reference in Villahermosa, thanks to the quality of our ingredients, the careful way we present each dish, and most of all, the warm, attentive service we offer our guests. Our ample spaces create a relaxed atmosphere, and the presence of live music makes it fun and lively. Admire the beautiful landscape that the city¿s Historic Center offers during breakfast, lunch, or dinner, whether you are sitting in the terrace or inside the restaurant, thanks to its beautiful panoramic windows.
Rooms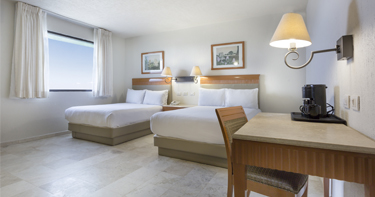 Deluxe Room, 2 Double
Your friends or family can share this spacious room with two double beds and every comfort they might need: room service, free WiFi, a screen to watch or listen to your favorite multimedia content, and the best amenities. Well-lit, airy, and spacious, it is one of the best options in the city¿s Historic Center.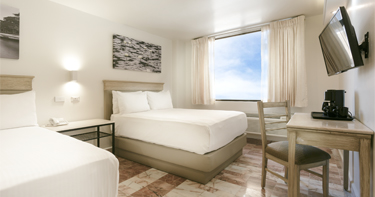 Exectuive Room Doog Friendly, 2 Double
Choose this fresh, welcoming room to share with your whole family ¿pets included, of course! We have the best services to welcome you, your loved ones, and one or two pups who weigh between 5 and 10 kilos. This is the perfect place for setting out to explore Villahermosa and relaxing afterwards, as it offers the best location, amenities, and services. We will charge you an additional $300 MXN for your pets¿ stay, no matter their size, as well as a security deposit that will be refunded upon check-out. Bring them along, we¿re excited to welcome them with a Special Kit that includes treats, a bed, a dish, and a diaper that they can use throughout their stay.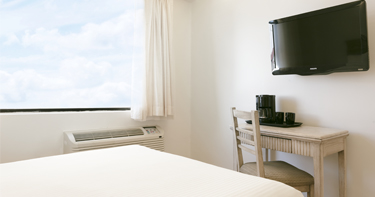 Executive Room, 1 King
For your comfort, this room offers ample spaces and total privacy. It is ideal for taking a break after a long day of activities, or a long stroll around Villahermosa. Equipped with a King Size bed, four hypoallergenic pillows, a screen, and a minibar, it is the place to pamper yourself throughout your stay.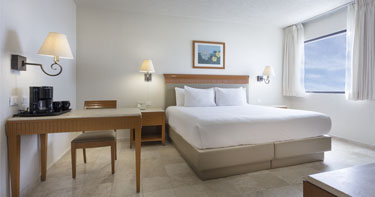 Junior Suite, 1 King
With incredible Historic Center views, this room will be your hideaway for enjoying moments of fun and relaxation. Find every comfort you might need, including a King Size bed, a spacious, fresh marble bathroom, natural wood furniture, and a desk with direct lighting, in case you need to work for a while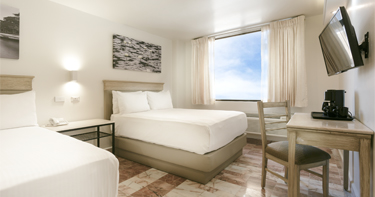 Executive King, 2 Double
With two double beds, this is a room for sharing, and it also offers the best services. Warm and relaxing, it has the ideal space for enjoying a harmonious time with friends or family, as you relax after a day of fun, and take your time to enjoy a drink or a cup of coffee, available all day.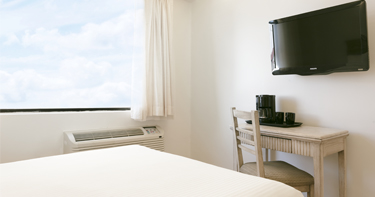 Executive Room Dog Friendly, 1 King
This spacious, comfortable room features a King Size bed and amenities such as hypoallergenic pillows and a minibar that make it the perfect space for sharing with your best pal. If you have one of two pups who weigh between 5 and 10 kilos, bring them along and enjoy a memorable trip at an additional cost of $300 MXN no matter their size (plus a security deposit that we will refund upon check-out). We¿ll be thrilled to welcome you and your best friends, who will receive a Special Kit that includes a bed, a dish, a diaper, and some tasty treats. Enjoy your visit to the beautiful city of Villahermosa and discover its essence together.