Gamma Monterrey Rincón de Santiago
Gamma Monterrey Rincón de Santiago
Delve into the unique cuisine, history, and architecture of contemporary Mexico with Gamma Rincón de Santiago. Let yourself be seduced, discovering every magical corner this singular space has to offer.
Restaurant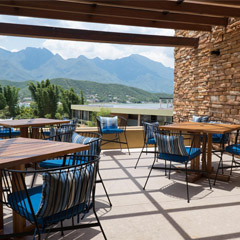 Restaurant
Discover and savor local cuisine, along with international fare, at Los Agapantos, a restaurant where delicious meals and innovative décor are set against an impressive panoramic view of the Boca Reservoir. If a good meal is what you need to start the day, check out our first-rate breakfast buffet. For the rest of the day, lunch and dinner a la carte are irresistible options.
Meeting Rooms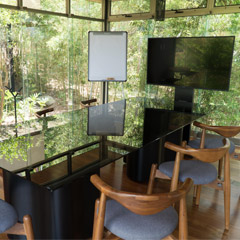 Meeting Room
For work meetings and celebrations, Gamma Rincón de Santiago has two meeting rooms with capacity for 10 people, an open-air auditorium for 150, multi-purpose hall for 200, and spacious gardens, ideal for any occasion. It¿s the perfect location to ensure the success of your event.