Gamma is a new hotel concept that gives you the best of both worlds; the charm of a small local hotel and the backing of the trusted Fiesta Inn national chain. The areas within the hotel are designed to create unique experiences, with the warmth and charm of traditional Mexico. Come create a wide range of unforgettable memories at Gamma Plaza Ixtapa Hotel.
The hotel is located in the heart of Ixtapa, just 20 minutes from the airport and very close to El Palmar Beach, the handmade goods market, and many of the area's main attractions. It has 153 comfortable guest rooms and suites, a restaurant, bar, spa, gym, pool, wading pool, pool bar, and parking, as well as three event rooms and beautiful gardens that will make your stay more pleasant.
Please note that the check-in time is 3pm and the check-out time is 12pm. For your convenience, we recommend express check-out.
Services
The hotel features 153 rooms, restaurant, bar and open facilities to work and rest. Hotel services include:

Pets are not allowed
Guests access with guide dogs
Business center
Bar(s)
Free Wi-Fi access
Outdoor parking
Restaurant(s)
Gym
Outdoor pool
Laundry service
Handicapped access
Spa
Restaurant

Playa Linda Restaurant
Our restaurant satisfies you with a variety of offerings, available from the menu or as part of the buffet. Experience the flavor of authentic Mexican food or surprise your taste buds with a selection of international dishes.
If you wish to have something to drink while you enjoy a delicious snack, the pool's snack bar is the perfect place for that.
Breakfast: 7:00 AM - 11:00 AM
Lunch: 13:00 PM - 17:00 PM
Dinner: 19:00 PM - 22:30 PM
Meeting Rooms

Meeting and Event Spaces
Gamma Plaza Ixtapa Hotel by Fiesta Inn has the perfect facilities and team and offers assistance by highly trained staff to give your event that touch that will make it unforgettable.
Choose the most charming setting in the beautiful gardens or the three meeting rooms which are ideal for conventions, conferences and social events with capacity from 40 to 450 people.
Qualified:
x
Location #11 of 23 hotels in Ixtapa
Certificate of Excellence 2019
Summary of qualifications
Best comments
"good vlue"
Nice and clean hotel/rooms. Comfortable beds. Effective and friendly staff. Buffet food OK. Pool requires attention from management. On a hot sunny day with a lot of guests simply was not enough chlorine and the pool itself needs some maintenance/repair but I believe they have started.
"Website is overstated."
Hotel has potential but rooms in need of repair and amenities as advertised missing or broken. Examples-iron but no ironing board, desk but no chair, alarm clock broken, towel rack missing, kitchen with sparse amenities, curtains broken, etc. Also very loud music poolside until 10:00 pm. Disappointed.
"A place to relax!"
Would recommend for 1/2 nights. We come to the tropics to be on the ocean side, but it was ok to stay a night in the town of Ixtapa close walk to restaurants. The front desk staff were friendly and helpful!
"Vacation"
Very nice hotel, good service of his staff, good food in the restaurant, and very accessible prices in all the food and beverages, the only thing against is that doesn't have beach front, but in general very recommended for people who wants to rest .
"Useless wifi, senseless bureaucracy"
We stayed here for three nights in the first week of January 2019 - two adults and two teenage daughters in a room with a king bed and sofa bed. Other members of the family travelling with us stayed in a separate room. The hotel is located across the road from the main shopping area and about five minutes' walk from the beach, ie it is not beach-front and you can't see the beach from the hotel. Within easy reach of the hotel are plenty of shops and restaurants. The hotel is good for families. I would not really describe it as a place for a romantic honeymoon or for business visitors. We had three breakfasts and one lunch at the hotel's single restaurant and found the food ok but not of a high standard and there was no variety - always the same for breakfast. I believe that the restaurant offered buffet dining only, ie not a la carte. Therefore, the hotel is limited by having one restaurant only of mediocre quality. The official check-in time is 3pm. We arrived at 3:40pm and one of our rooms was not available. It became available at 4pm. That is not acceptable. Our room was very large with a separate kitchen area. There was no security safe, despite the fact that the hotel's website says that rooms are equipped with a security safe. Otherwise, the room was tidy and clean. The wifi was dreadful. It worked fine when standing by the balcony in our room on the fifth floor but it was patchy in the rest of the room and did not work at all at night, so that meant no going to bed with the iPad to watch Netflix etc. The wifi was patchy in the lobby area and seemed to work well only in the restaurant and by the pool. This was highly inconvenient. The pool area was good with a shallow pool for children and a deeper pool. There were plenty of sunbeds but it seems that some people reserved sunbeds by throwing towels over them. The hotel should really stop this practice, ie if hotel management cares about this. One day we spent three and a half hours by the pool from late morning to early afternoon and there was no service, ie no-one asking us if we would like a drink or a snack. It seems that the bar service starts up only later in the day. The really odd thing about this hotel is the way in which they don't seem to trust their guests. They provide towels for use by the pool and, when we asked for our towels, they said that we needed to produce a card that they should have given us when we checked in, but which they didn't. Why do they need to do this? When guests arrive, they are given a wrist-band, so it's clear that they're staying at the hotel. What bureaucrat thought up the need to present a card every time you want to borrow a towel? Is the hotel concerned that guests might run off with a $5 towel? When I asked for towels, I stood my ground and they rang the reception to ask whether it was ok to lend me towels. Didn't they trust me? On another occasion, there was no-one in the booth handing out towels, so I simply took them (and later returned them). When my wife went to ask for towels, they insisted on her producing a card, so she had to go to the reception to ask for a card that they should have given her upon check-in. This whole system suggests that the hotel does not trust its guests and leaves a really bad impression. Stay here if you don't mind such things. We certainly won't be returning.
Top-rated Attractions Nearby
Ixtapa Zihuatanejo By Luis De La Maza
Carlo Scuba
Ciclopista de Ixtapa
Picante
Playa el Palmar
Ixtapa Island (Isla Ixtapa)
Delfiniti
Xihuacan Museum and Archeological Site
Playa Quieta
Playa Linda
Photos hotel and surroundings (213)
Rooms
Superior Room, 1 King
Discover the perfect atmosphere to rest or work, and feel the warmth of our service in this comfortable room. It has a king bed, air conditioning, closet, ironing kit, desk, wireless Internet, telephone, cable TV, smoke detector, security safe and electronic locks.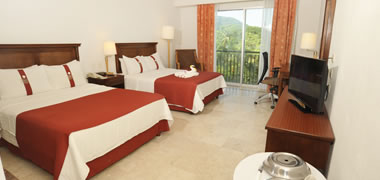 Superior Room, 2 Double
Share with your loved ones the charm of this room, a unique and warm space where you will experience pleasant moments throughout your stay. It is equipped with two double beds, air conditioning, closet, ironing kit, desk, wireless Internet, telephone, cable TV, smoke detector, security safe and electronic locks.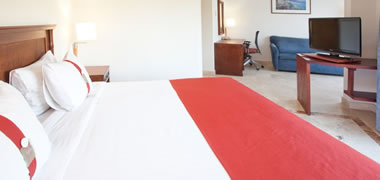 Executive Room, 1 King
Doing business is more enjoyable in this warm room equipped with everything you need for your trip to be successful. It has a king bed, double pull-out sofa bed, air conditioning, closet, ironing kit, desk, wireless Internet, telephone, cable TV, smoke detector, safe and electronic locks.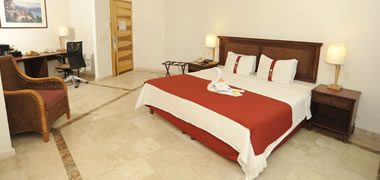 Junior Suite, 1 King
Incredible moments await you in this room, ideal for couples who want to enjoy a stay they will always remember. It has a king bed, bathtub, air conditioning, closet, ironing kit, desk, wireless Internet, telephone, cable TV, smoke detector, security safe, electronic locks and a balcony to admire the view of the hotel¿s gardens and swimming pool.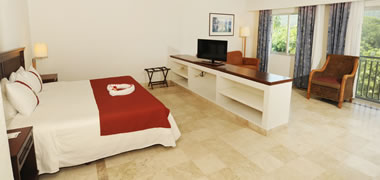 Master Suite, 1 King
This spacious room is ideal for extended stays, with everything you need for a comfortable stay. It is equipped with a king bed, kitchenette, cooktop, minibar, microwave oven, dishes, glassware, double pull-out sofa bed, air conditioning, ironing kit, desk, wireless Internet, telephone, cable TV, smoke detector, security safe and electronic locks.