Gamma is a new hotel concept backed by Fiesta Inn. The hotels offer modern design, warm and friendly service and everything you need for a unique and enjoyable stay wherever you travel. The Gamma by Fiesta Inn Tijuana will help you create unforgettable moments in your next visit to this bustling city, where the excitement and emotion of Mexico come alive.
The hotel is located in the city of Tijuana, just 5 minutes from the San Diego-Otay checkpoint.
Gamma Tijuana is an Eco-friendly hotel, so it is a 100% smoke free hotel.
Please note that the check-in time is 3pm and the check-out time is 12pm. For your convenience, we recommend express check-out.
Some points of interest:
• Garita Otay (2 km) 5 min
• Plaza Comercial Alameda Otay (1 km) 5 min
• Parque de la Amistad (1 km) 5 min
• Universidad Autónoma de Baja California (1.5 km) 10 min
• Aeropuerto Internacional de Tijuana (5 km) 10 min
• Estadio Caliente (7 km) 20 min
• Parque Industrial Otay (1 km) 10 min
• Av. Revolución (10 km) 30 min
• Consulado de EUA (2 km) 5 min
• Salida a Tecate (5 km) 10 min
Services
The hotel features 140 rooms, restaurant, bar and open facilities to work and rest. Hotel services include:
Pets are not allowed
Guests access with guide dogs
Bar(s)
Business center
Outdoor parking
Outdoor pool
Room service
Free Wi-Fi access
Restaurant(s)
Gym
100% smoke free hotel
Laundry service
Handicapped access
Restaurant

Veranda Restaurant
The Gamma Tijuana Otay by Fiesta Inn offers pleasant dining featuring Mexican and international cuisine at the hotel restaurant or through room service. It features Mexican and international cuisine from the Veranda Restaurant, plus a delicious breakfast buffet with fresh-baked breads, aromatic coffee and exquisite dishes - all served in a friendly ambiance with personal service.
Meeting Rooms

Event and meeting rooms
The Gamma Tijuana Otay by Fiesta Inn offers fully equipped and professionally staffed meeting and event spaces with everything you need for a successful conference, seminar, meeting, convention or other special event.  Meeting rooms are fully equipped and can accommodate from 100 to 500 guests. There is also a private work area, with computer work stations and everything you need to stay productive while on the road.
Qualified:
x
Location #17 of 59 hotels in Tijuana
Summary of qualifications
Best comments
"Nice hotel but make a reservation."
I did not have reservations and just walked in. (I thought I'd be arriving the next day.) It was close to an appointment I had in the morning. The booking.com price was $65./night but the least expensive room I was quoted by the front desk was 1900 pesos/night. ($105. U.S.). Maybe they were near full or a walk-in price is more expensive. (I'd hate to think it was because I was from the U.S. and looked like I could pay more). They do NOT accept dollars (weird, huh?, as it is a border town). Fortunately I had pesos with me. They also accept credit cards. I had no options, since it was 10 pm. The room was well appointed and everything was clean. There was ample closet space, an ironing board and iron and a hair dryer (that fell off its mounting when used.) There were complimentary soaps, shampoo, conditioner and lotion with plenty of hot water and towels also. The TV worked well but only had CNN in English. There was a phone in the room. I had to hunt for an electrical outlet (none at the desk in the room) to plug in my cell phone. I used the one near the closet and laid my phone on the floor. The room faced a baseball field (in the back of the hotel) on both sides but it was quiet for sleeping. I was awakened by a truck horn continually blowing at 5 am and couldn't get back to sleep. Obviously neither could the people on the other side of my room because they started making (light) noise at 5:20 am. The bed and pillows were comfortable and very clean. There was no breakfast included but there was a restaurant on the side of the parking lot. I was nervous about my car's safety but there is a parking lot on the premises with a guard 24 hours. He was friendly and helpful. I had completely forgotten to get change (pesos) to leave for the maid. That is a custom in Mexico. I had to leave by 9:45 am to get to a appointment or I would have gone back to give my "propina" (tip). I would recommend this hotel BUT make a reservation to get a better price. To me $105. is expensive to stay in Tijuana. However the hotel is in a good neighborhood (I used to live 2 blocks away) and very close to the airport and the border crossing (in the Otay Constituyentes area). I would recommend this hotel.
"Scary and dirty!"
Arrived here at night from the airport. Neighborhood was scary. The hotel staff was nice and we might have stayed except that it looked like they hadn't vacuumed the halls for a few weeks. They are under construction with plans to expand, so I am sort to write this review, but I don't want anyone else to be stuck booking here. We ended up going elsewhere for a higher rate because we were too late for an online booking at another hotel.
"They stole my phone charger! "
It's really sad because everyone on the staff was so friendly and the buffet is really good. After I checked out I realized I left my phone charger plugged in and called them right away. They said no one from cleaning crew was there to ask and they would do so next morning and call me back. I had to call them twice because that never happened. When they finally answered about it they were so uninterested in solving the problem and just said no one found it. Are you kidding me?! I'm absolutely certain I left it plugged in the room!! Definitely my fault but still, I would like to be able to trust the people that work in the hotel I chose to stay at. I mean seriously, it's a phone charger...
"Just okay but I wouldn't be inclined to go back"
It's hard to think of anything to recommend this hotel other than its proximity to the University of Baja California where I was visiting. Everything about the room is average. As noted by another reviewer, the electrical outlets aren't convenient. My AC didn't work properly so I could not cool the room beyond a certain level, making for a somewhat uncomfortable night even though outside temp was mild. The breakfast was located in a restaurant across the parking lot which seemed a bit strange. The staff seemed a bit disorganized considering that it was a buffet. Had some challenges getting the few things I requested (and I speak Spanish fluently) and even though breakfast was included with my room there was some confusion about it when I was ready to leave. I spent much more time at breakfast than planned. Nice pool though. I regret that I didn't have a chance to enjoy it.
"No functioning air conditioner"
A/C was never fixed after reporting it after our 1st night of our 3 night stay. Room smelled terrible, had to buy air freshener from the pharmacy across the street. Although I will say the staff was very friendly.
Top-rated Attractions Nearby
Tijuana Walking Tour
Turista Libre
Tijuana Cultural Center (CECUT)
Mercado Hildago
Playas de Tijuana
Avenida Revolucion
Mullme
Plaza Rio Tijuana
Estadio Caliente Xoloitzcuintles
Universidad Autonoma de Baja California
Photos hotel and surroundings (87)
Rooms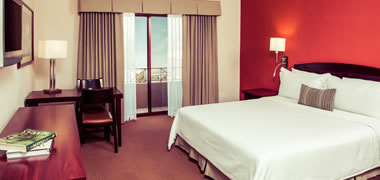 Superior Room, 1 King
Escape from the bustle to your private getaway and discover the comforts of your own private space. Each room features a king bed, closet, cable TV, reading lamp, wireless Internet, work desk, extra outlets, smoke detector, security safe and electronic locks.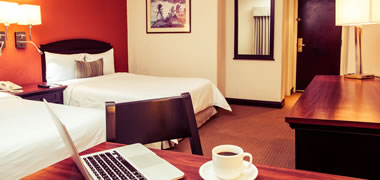 Superior Room, 2 Double
When it's time to rest, head to your private getaway and discover the comforts of your own space. Each room features two double beds, closet, cable TV, reading lamp, wireless Internet access, work desk, extra outlets, smoke detector, security safe and electronic locks.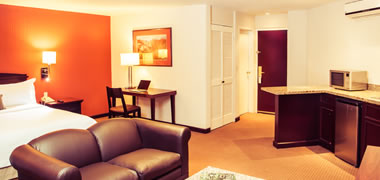 Junior Suite, 1 King
Discover the perfect place to work or just rest in comfort in this spacious guest suite. Each room features a king bed, closet, cable TV, sofa bed, reading lamp, mini-fridge, microwave, wireless Internet access, work desk, extra outlets, smoke detector, security safe and electronic locks. The restroom has a tub and separate shower, mirror, hair dryer and diverse amenities.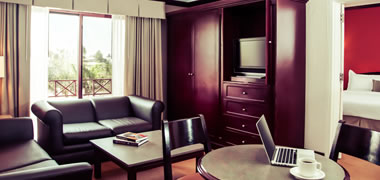 Master Suite
Experience true quality and service in these modern rooms with carpet floor, king bed, one and a half bathrooms, closet, cable TV, reading lamp, wireless Internet access, work desk, extra outlets, smoke detector, security safe and electronic locks. There is also a sitting area perfect for relaxation.