Gamma Ciudad de México Santa Fe
ComPosadasCalificacionTripadvisor
ComPosadasCalificacionTripadvisor
At Gamma Ciudad de México Santa Fe, we are surrounded by the city's powerful energy, especially that of its most important business and financial district, where life is an exciting, nonstop search for success. Here is where our essence begins, at one of the most strategic locations, created as an avant-garde urbanist project that has become a global, modern area.It is here where we offer you a hotel that vibrates to the rhythm of the neighborhood, where a daring architectural style transformed the city's landscape, allowing a contemporary lifestyle to emerge. You will be able to experience it all at Gamma Ciudad de México Santa Fe, surrounded with everything you need for an excellent trip. We are the key to your relaxation, thanks to our surprising guest rooms and our Room Service (delivered under all safety and hygiene measures, in accordance to our Travel with Confidence program), as well as our facilities and event spaces, all under our Gamma essence: warm service, great attention, and the best rates. It is the perfect combination that makes us stand out among this cosmopolitan energy.If you want to relax, head to the gym, or enjoy a drink or a quiet dinner at our restaurant. And if you are here for a productive trip, we also have meeting rooms and spaces for your events or business meetings.
Services
Guide Dog
Gym
Smoke Free Hotel
Indoor Parking Extra Cost
Room Service
Restaurante Terraza Bar Tamarindos
Love at First Sight At Restaurante Terraza Bar Tamarindos fall in love with its incredible spaces and views it offers. The city skyline invites you to take your time, and appreciate every spot, as you enjoy the menu with its Mexican specialties and its varied wine and spirits menu. The terrace is the perfect place to spend the afternoon with a nice drink after a long day.
Meetings and Event Spaces
Gamma Ciudad de México Santa Fe offers the best spaces for social events or business meetings, thanks to its great variety of spaces, with capacity for up to 150 guests, and an eight-person board room. No matter the size of your event, it will have the ideal setting, as all our spaces are equipped with the latest technology.
Rooms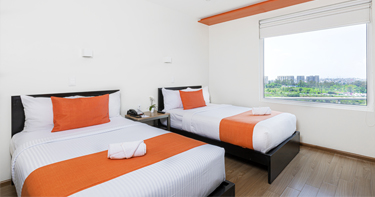 Superior Room, 2 Double
If you are sharing your trip, this is the right room, thanks to its two double beds. Spacious and well lit, it provides a warm, clean atmosphere where you can enjoy a relaxing stay, with excellent amenities and the best services, whether you want to stay connected or entertained.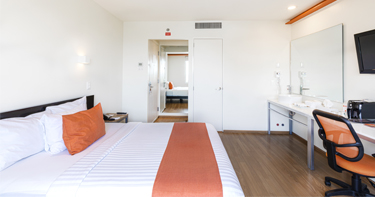 Junior Suite
If you are looking for total privacy, this is the room you need. Equipped with a flat screen TV and high-speed WiFi, this room offers the best services and amenities, and you will feel right at home with our warm service and attention.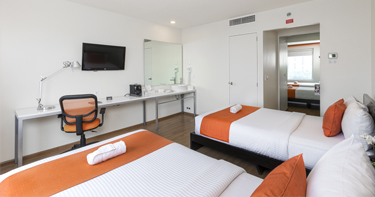 Superior Room, 2 Twin
This room is also great for sharing during shorter stays. Equipped with two twin beds, it features the same amenities, and fresh, relaxed design.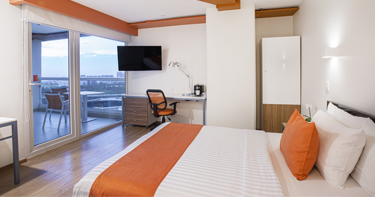 Deluxe Room, 1 Queen
Enjoy the best view of the Santa Fe district from your room's terrace as you have breakfast or watch the sunset. With its Queen Size bed, it will become the best hideaway for you to rest, but it also features a wide desk, amenities, a flat screen TV, and contemporary furnishings.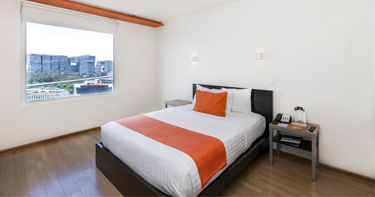 Accessible Room
There is no reason to worry when you stay in this room, designed to offer you the highest safety standards, and equipped for your absolute comfort. The room features all of our services and amenities, modern furnishings and design, as well as a safety bar in the shower, an elevated toilet, and a wide bathroom door.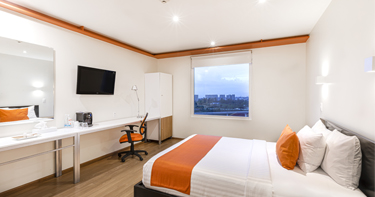 Superior Room, 1 Queen
If what you are looking for in every trip is a wide, modern space, this is the room for you. Not only does it have a comfortable Queen Size bed, but it is also equipped with a desk and ergonomic chair where you can plan your business meetings, plus first-rate amenities and services.