Discover the magic of the capital city of Michoacán at Gamma Morelia Vista Bella, a hotel that opens its doors to offer intimate and familiar experiences in a unique Italian Tuscan-style space that invites you to enjoy an extraordinary stay. The beautiful gardens and contemporary architecture with finishes in pink quarry stone, wood, and marble make it the perfect place to learn about the city's history and cuisine, with all the comforts you need. Experience the personality that characterizes Gamma Morelia Vista Bella for a unique trip.ABC Medical Center, our protocols ally. A leader in medical best practices for more than 130 years, ABC Medical Center, dedicated to caring for their patients' health, has assisted POSADAS in the development of prevention, hygiene, and disinfection protocols that allow the group to guarantee the safety of their staff and guests.
Services
Guide Dog
Gym
Free Outdoor Parking
Room Service
Outdoor Pool
Business Center and Conference Rooms
Gamma Morelia Vista Bella offers the Stanza Silenziosa area where guests can relax or use it as a work and meeting space for up to 15 people. It is a picturesque library dating from the 18th century that guarantees to make any stay even more enjoyable. Discover Gamma Morelia Vista Bella and the capital city of Michoacán as never before. Spend an unforgettable time in the heated pool in the central garden, and relax with the parking and laundry services provided during your stay. An Italian experience in Morelia enhanced with its own unique flavor to create a different type of trip that will give you a new travel story to tell.
Restaurant
Delicious textures and flavors await you at Il Forno, a restaurant created for you to savor unique Italian dishes. Order breakfast from the menu, Monday through Wednesday, or help yourself to our breakfast buffet from 7:00 a.m. to 12 noon, Thursday through Sunday. The colorful environment decorating this space creates the perfect atmosphere to enjoy lunch and dinner à la carte. You can also choose to order room service 24/7 for a relaxing meal in the comfort of your room. You can also start your day with an energizing drink or fresh fruit in Il Giardano, the ideal place to prepare for your discovery of the customs and diversity of Morelia's local culture.
Rooms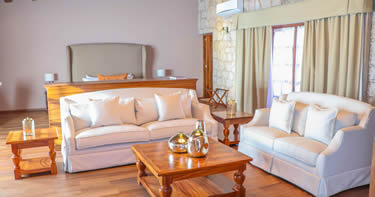 Junior Suite, 1 King
Large room overlooking the garden, king-size bed, full-size room, dressing room, bathroom with jacuzzi and the perfect environment to enjoy Morelia emblematically.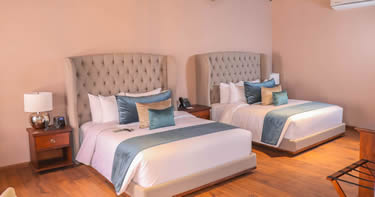 Junior Suite, 2 Double
A spacious room with two queen-size beds, a full dining room with a kitchenette, and a garden view to complement your stay with our fine attention to detail.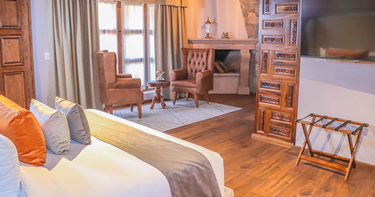 Deluxe Room, 1 King
Overlooking the garden or parking lot, this room equipped with a king-size bed, two nightstands, a reading chair, and ample workspace, is ideal for resting after a stroll through Morelia.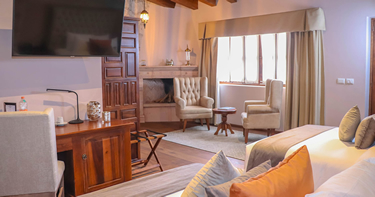 Deluxe Room, 2 Double
A perfect room to share, this room is furnished with two queen-size beds to guarantee a restful sleep for both you and your partner or companion. Furnished with two nightstands, a reading chair, and pleasant workspace, views in these rooms vary and can include the parking lot or a garden view.